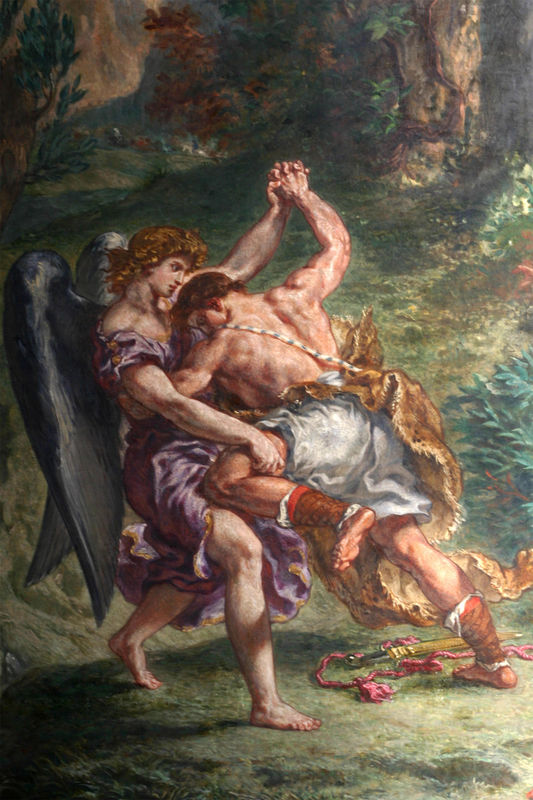 Similar to the study of the King of the North, this study is deep and can be complex. For this very reason, we as present truth believers often have differing views of this time of trouble.
A while back we did on our sister site Godsloveandlaw a 3 part post of this subject, but after hearing from a close brother who is at Mt. Dale, we thought we'd do an update post.
Jacob's Time of Trouble (Part 1 of 3)
Apparently God's Spirit of Truth is working over there among our brethren because according to this brother, they are re-considering their long-held view of Jacob's time of trouble coming BEFORE Ezekiel 9 by some strange government confederacy persecuting us DSDA.
Many of us know that this belief comes from the "new codes" and originally promoted by a few older leaders in DSDA who bought into the "inspiration" idea of them and published by Florence Houteff.
When one reads them you can see that the trouble happens before the Ezek. 9 church judgment. But that leads to a timeline that is taught that we are to be ready for persecution among us DSDA, from the civil authorities in conjunction with our "Esaus" in the church.
However, there is just one major problem with this– it CONTRADICTS the original codes timeline of this trouble! Big problem. So this is apparently why Mt. Dale has decided to  convocate to restudy this issue. Keep them in prayer for the Truth to prevail.
Let us stop for a moment to remember our type, Jacob and Esau. In the Rod we know that this "trouble" is concerning Jacob's returning home.
Jer. 30:7 — "Alas!  for that day is great, so that none is like it: it is even the time of Jacob's trouble, but he shall be saved out of it."
   The people that have come to this antitypical time of trouble are returning to the homeland, are comforted.  Apparently it is bad enough to frighten all, but God's encouraging counsel is, "Fear not." (1 TG, no. 47, p.14)
Now when we remember Jacob, what was this trouble really about? Nothing! It was all in his mind, this was just "perceived" trouble–mental anquish. Esau never declared nor acted out any trouble to him. He had just rounded up hundreds of his fellow men to go greet Jacob.
So how can we today , especially those who follow the new codes, make up all sorts of scenarios, saying that us Jacobs "will be persecuted by the authorities, etc. etc.pre-Ezekiel 9" when in type no such persecution existed?!!
Rather it is much more believable that our mental anguish exist today with our Esaus throwing us out of church, slandering us, maliciously gossiping against us, etc. Let me tell you of an experience of my own Jacob's trouble.
A few years back, the word got out that I was a "Shepherd's Rod believer" in our church. Soon the head elder let people know that a special meeting was being called in our church and I heard that it was, among other things, going to be about me. A sort of warning meeting against me by the Elder.
I soon grew somewhat fearful and worried as the date approached. After all I had a excellent reputation in the church and now I was to be chastised for sticking up for the truth! This was truly mental anguish for me.
But what finally happened at the meeting? Nearly the whole crowd stood up for me! The elder ended up like a dog with his tail between his legs. The fear and anguish was needless!
This brethren is our time of Jacob's trouble our mental anguish just as Jacobs had his. There is NO persecution involved here for us SDA or DSDA.
Now, we know that SOP does point to some trouble for the second fruits, their "Jacob's trouble" but that is during the Loud Cry, not our time. How do we know this? Because Inspiration (Bible, SOP, Rod) tells us the 144,000 are guarded and protected as the final servants of God declaring the Loud Cry.
To reiterate our DSDA fundamental beliefs and Jacob's timeline let us look at the following —
4. That the destruction of the tares from among the first fruits of the living (Matt. 13:30, 48, 49; Ezek. 9:6, 7) results in the purification of the church.
   5. That immediately thereafter, the angels let loose the four winds (Rev. 7:1-3), whereupon ensues the time of trouble and Michael's standing up to deliver from
Fundamental Beliefs   12
it, all whose names are written in the Lamb's Book of Life (Dan. 12:1).
   6. That the angels' letting loose the four winds to blow over the four corners of the earth (Rev. 7:1), does not anticipate a World war but rather a world wide decree enforced throughout Babylon by the image-beast, and that then no one may buy or sell save he who worships "the image." Rev. 13:15-17.
   7. That subsequently, the time of Jacob's trouble (Jer. 30:7) for the 144,000, the sons of Jacob, logically develops on their way home (Gen. 32:1, 24) to the land of their fathers (Ezek. 36:28; 37:21, 25).
   8. That the foregoing epochal event shall cause the 144,000 to have their names changed as did their father, Jacob (Gen. 32:28), and as a body receive a new name which the mouth of the Lord shall name (Isa. 62:2).
   9. That these events shall ultimate in the setting up of the Kingdom (Dan. 2:44; Isa. 2:1-4; Mic. 4; Ezek. 37), wherein the 144,000, those who follow the Lamb "withersoever He goeth" (Rev. 14:4), shall stand with Him on Mt. Zion (Rev. 14:1), and there "receive the forces of the GentiIes. " Isa. 60:5, 11.
   10. That with this sequence of events will ensure the Loud Cry of the angel that lightens the earth with his glory (Rev. 18:1),
Fundamental Beliefs   13
as the other Voice cries, "Come out of her, My people, that ye be not partakers of her sins, and that ye receive not of her plagues." Rev. 18:4.
   11. That in response to this call, many nations will say: "Come, and let us go up to the mountain of the Lord, and to the house of the God of Jacob and He will teach us of His ways, and we will walk in His paths: for the law shall go forth of Zion, and the word of the Lord from Jerusalem." Mic. 4:2.
   12. That the Voice will cease to cry when all the saints shall have been gathered out of all nations. Then shall "the days come, saith the Lord God, that I will send a famine in the land, not a famine of bread, nor a thirst for water, but of hearing the words of the Lord: And they shall wander from sea to sea, and from the north even to the east, they shall run to and fro to seek the word of the Lord, and shall not find it." Amos 8:11, 12.
   13. That then will follow the dissolution of the world-wide organization of the image of the beast (Rev. 19:1-3), the close of the investigative judgment of the living (Rev. 15:5-8), the end of probationary time (Rev. 22:11), and the pouring out of the seven last plagues upon the wicked (Rev. 16).
   14. That under the seventh plague, the hosts arrayed for the battle of Armageddon
Fundamental Beliefs   14
will fight with, and will be decimated by, the armies of Heaven (Testimonies, Vol. 6, p. 406), and that Christ shall appear in all His glory, destroy the remaining wicked, resurrect the righteous dead (1 Thess. 4:15-17), and usher in the millennium (Rev. 20:5).
But one of the big arguments against this timeline (and supported by the new codes) is how can the "Esaus" those who are  members of Jacob's family (the same SDA church) cause trouble to Jacob on his way home when they are dead from Ezek. 9? Very good question!
First, the Rod as shown in our sister site post speaks of the Esau trouble in VTH's day and our day as well. This is a fact. Both of these time periods have experienced "civil" trouble directed from the Esaus in our church! Yours truly has experienced it when we protested and "sieged" the Las Vegas churches last year.
Second, once the gigantic war over Israel is done, there will be no doubt victorious armies there which may cause fearful concern to the Jacobs in their travel back to the Holy land.
Bottomline, the details are not as clear as we would like but we must stand on faith that our fundamental beliefs, our core as Davidians,  is solid and Truthful concerning the timeline of Jacob's trouble.
To summarize, we know that our DSDA Jacob's time of trouble is now, yet there will be more to come as it "develops" after Ezek. 9. The details are not clear as to what this trouble entails, but be assured it will all be "mental anguish" and not a literal persecution.
It will be as the Rod says —
"So when it all worked itself out, Jacob plainly saw that there was no need at all to have ever feared."(1 TG, no. 47, p.15)
NOTE: For the sermon that deals directly with this Jacob's time of trouble see 1 TG, no. 47, p. 12-18
http://shepherds-rod.org/TGvol1/1tg47.htm